MVP Sports Partners with BCB for 2021 Bowls Day
Bowls Canada is thrilled to announce the returning partnership of MVP Sports for National Bowls Day 2021. Clubs who register their Bowls Day event with BCB will be entered into a draw to win one of three fabulous prize packages of two Ubi-Launchers – MVP Sports' world-renowned delivery aid. Clubs can register their in-person or virtual event with BCB here.
Does your club take advantage of National Bowls Day?
National Bowls Day is a celebration of the sport of bowls that takes place all across Canada. In the past, successful Bowls Day events have included fundraising events, tournaments or competitions, while other clubs chose to market their club (and the sport) to the greater community, with an aim to attract new members. Click here for some tips and tricks to best take advantage of National Bowls Day, whether your event is in-person, virtual, or you want some inspiration for next year.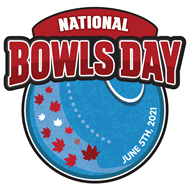 Want to be part of the Bowls Day video?
Last year's virtual Bowls Day celebration included a Pass the Bowl video that got the whole bowls community involved. This year's celebration will have a virtual component for clubs that are unable to open, and another fun video to get involved with! Submit a video of a trick shot to office@bowlscanada.com. It can be in your home or safely outdoors and submissions will be accepted until May 31st.
Vice-President Don Caswell Featured in Local News
Catch Bowls Canada Vice-President Don Caswell in this local news story. The Windsor Lawn Bowling club is featured, as Don talks about the impact of pandemic restrictions on our sport.
We want to hear from you!
The purpose of This Week In Bowls is to tell stories of bowlers and bowls clubs around the country. If you have a story you want to share, send us an email as we want to hear from the bowls community and share what they have to say. We want to be able to make this newsletter as bowls-centric as possible and to do that, we need your help.
Send your stories to office@bowlscanada.com